Gelcoat Sealer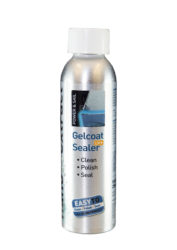 Cutting edge nano technological treatment of all Gelcoat surfaces above the water line that effectively combines cleaning, polishing and sealing in same working process. Very easy to apply with no need for any additional treatments. Use on fiberglass, gelcoat and painted surfaces.
Cleans Polishes and Seals in the same working process
Creates hydrophobic and oleophobic protective layer
UV damaged and faded surfaces regains its original color
Extremely UV resistant
Reduces application time by 50% compared with traditional waxes
Available in 250 ml bottle and 1L bottle
.